Alpha Professional Grading
The largest third-party authentication company in Europe for card grading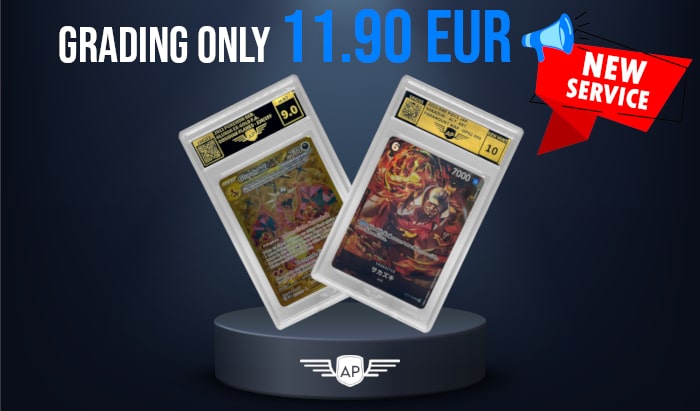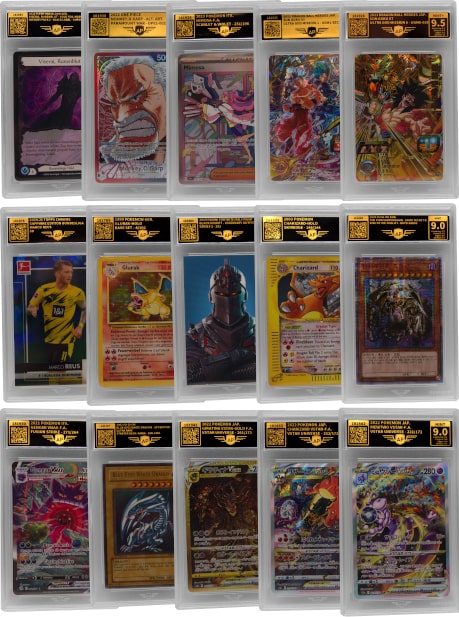 The seal of quality for your cards
Cards that have been graded at AP Grading can fetch a significantly higher selling price when sold. The welded protective cover also ensures that the condition of the card - and thus its value - is preserved.
Whether you want to have your Pokémon, Sport or YuGiOh cards graded - only with an independent assessment of the highest level can you be sure of the most careful treatment of your trading cards as well as a valid, globally recognized result. That's why, while maintaining maximum quality standards, we rely on high-quality ultrasound technology and unique cases with security engraving. As the first grading GmbH in Germany, we have made a name for ourselves in the meantime and can therefore look back on a broad, international acceptance of our gradings today.
What sets us apart:
• Turnaround time: ~ 15 business days
• Price: Only 19.90 EUR per card
• For all cards and all languages (TCG+OCG)
• Subgrades inclusive (As of 7.0)
• Population Report available
✓ Quality: Ultrasonic technology from the start
✓ Cases: Unique and with safety engraving
✓ Database: Cases with QR code & seal number
✓ International active: Customers from over 39 countries
Grading – Because your cards are worth it
What exactly is grading?
Grading is the objective assessment of the condition and value of trading cards by professional and experienced inspectors. For example, if you want to know which Pokémon cards are valuable and have your Pokémon cards graded, you can contact our experienced inspectors. With the help of their trained eye, as well as state-of-the-art technology and specially developed microscopes, they will confirm the authenticity and quality grade of your cards. At the end of each process, your cards are sealed in secured sleeves to ensure their long-term condition.
How is the value of a card determined?
How much are Pokémon cards worth? What would you receive if you offered your Yu-Gi-Oh cards for sale? Ask yourself these questions, and you rightly want to make sure that the value of your cards is determined correctly. Because of the global trade in collectible cards, AP Grading has developed internationally recognized procedures for condition grading.
Particularly popular trading cards
Next to Yu-Gi-Oh, Star Wars or of course Magic, it is particularly common for enthusiasts to have their Pokemon cards graded. Because the little monsters are not only popular with children - more and more adults find pleasure in the game and decide to have their Pokémon cards value determined. With a lot of luck, a Pokémon card value can well and happily correspond to that of a new car or even a condominium!
Our Gradingskala
The evaluation of trading cards must be carried out strictly objective and neutral. Whether you really want to have your Pokémon cards graded or any other trading card, we offer them the highest level of quality for the grading process of your trading cards. For a successful grading we rely on the latest technology as well as on the human eye. Through this combination we guarantee you a perfectly executed grading.
Grading scale

The AP Standard
Our laminated labels are especially durable thanks to the patented printing process. They are made of six layers of different materials that create a thin, extremely durable band. As a result, they score with the following advantages:
• Light resistant
• Abrasion resistant
• Water resistant
• Resistant to numerous chemicals
• Laminated
• Temperature resistant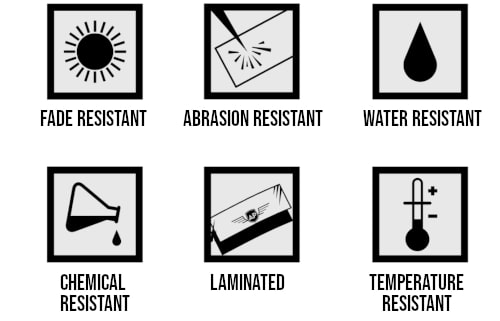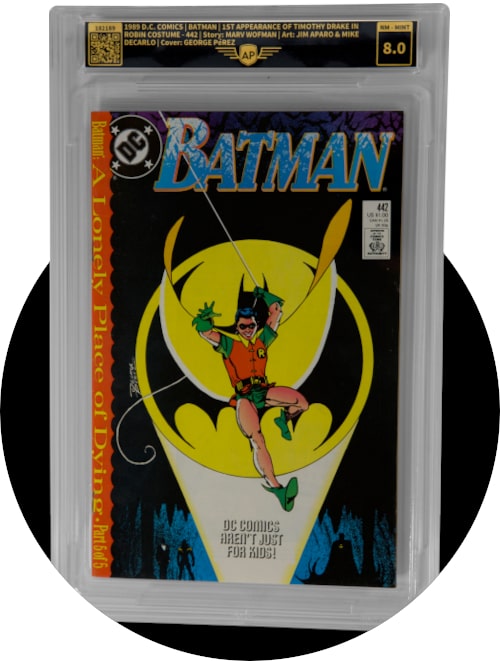 The grading process
Step 1: Acceptance of the trading cards
The contents of the shipment are checked and compared with the information from the order. Then the customer is informed by e-mail about the receipt of his cards.
Step 2: Pre-grading
First, the trading cards are carefully removed from the packaging. Meticulous care is taken to ensure that they are handled with extreme caution. Then the pre-grading is carried out. In the process, creases, printing errors and other damage visible to the naked eye are detected and recorded.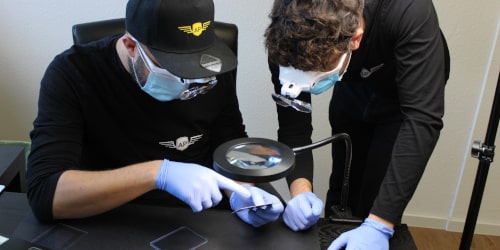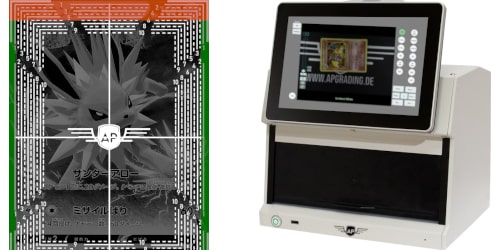 Step 3: Centering
The side edges of the cards are precisely measured to determine the centering grade of the card.
Step 4: Forensics / Special Tools
A forensic analysis device is then used to check the collection card for particularly fine scratches and other possible blemishes. This ensures that even the smallest hairline cracks are detected. This final inspection process with special tools from forensics ensures the very high quality of our grading.
Step 5: Sealing
After the grading process, the cards are sealed in our secure special case. By using a state-of-the-art ultrasonic welding device, we ensure a residue-free sealing process.
Step 6: Shipping
The cards are securely packed and shipped to the customer with insured shipping. At the same time, the customer receives an email notification of the shipment including the shipment number and link to track the shipment.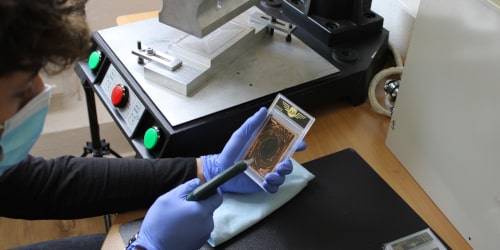 About us
Based in Schüttorf (Lower Saxony, Germany), we serve customers around the globe to their full satisfaction. As the first German grading company, we offer maximum reliability and full legal security at every step of the grading process. With AP Grading you choose a worldwide active, highly professional and independent grading provider. Innovative technical equipment completes our first-class all-round service.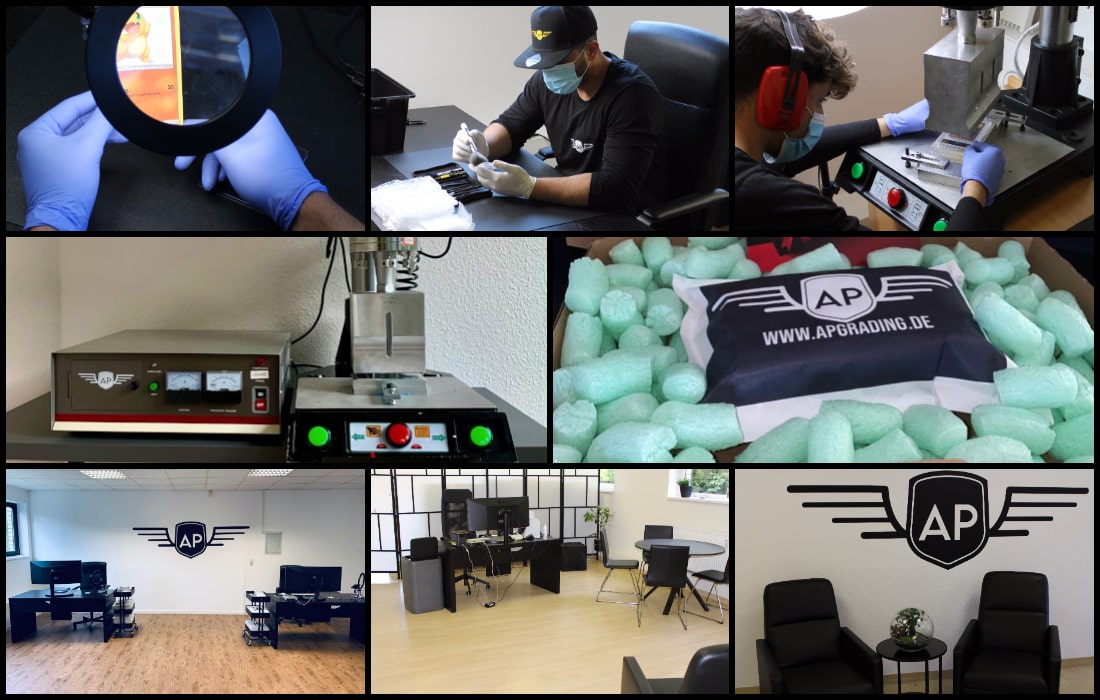 Frequently asked questions
How long does the grading process take?

Due to the current high demand, the waiting time is around 15 labor days.

How do I send my cards?

Just click on our link to order gradings. This will take you to our convenient order form where you can place your order. After you place your order, you will receive an email explaining the steps below.

.

What does your grading service cost?

Grading a card costs 20 EUR.

How does grading work?

When it comes to our grading, we rely on both the experienced eyes of our appraisers and state-of-the-art technology. Our special tools enable us to locate any scratch or crease in a card, no matter how small. This is how we ensure that our grading is accepted worldwide.